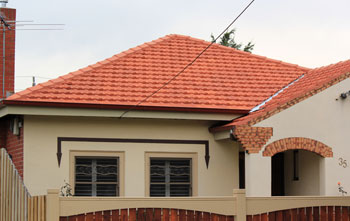 The Money-Saving Benefits of a Timely Re-Roofing Using Monier™ Roof Tiles
17 June 2019
When it is time to refurbish your roof, if your roof is still in viable condition with no signs of structural damage and consists of only one layer of roofing materials, you can opt for re-roofing which is less expensive than roof replacement is. This means that you have caught your roof's aging issues in time to save money. Now, it is time for you to choose your new roof tiles. For this reason, we are here to explain the following benefits of using Monier™ roofing tiles for your timely re-roofing project.

You Have Three Exciting Categories of Monier™ Roofing Tiles to Consider
Monier™ offers you an exciting collection of roof tiles in the following three categories:
Concrete tiles from this company continue to harden after installation as the sun bakes them. They become even sturdier than they are in the manufacturing plant for this reason, which leads to their 50-year lifespan.
Terracotta tiles from Monier™ are made in this country using local materials. The company shapes and moulds each tile by hand. With such workmanship and materials, it is no wonder that these tiles can last up to 50 years and more.
Elemental™ Series is the latest offering by Monier™, the tiles in this category are designed specifically for low-pitched roofs. They come with a 30-year performance guarantee.
A Wide Range of Profiles and Colours Are Available in Each Category of Monier™ Roof Tiles
Each of the above categories offers you a wide assortment of colours and profiles so that you can personalise your roof. Just select the profile and colour that best suits your house.
All Colours of Monier™ Are Highly Durable
Roofing tiles by Monier™ contain the latest in colour technology to ensure that their shades do not fade under exposure to the Australian weather conditions easily. The guarantee on how long their colours last vary between tile categories, so consult your roofer to learn details on your chosen model.
Monier™ Tests Its Products in Australian Conditions to Ensure Their Resiliency
All tiles from Monier™ also come with substantial structural guarantees. The company can do this since it tests their tiles extensively in the real weather and environmental conditions here in Australia.
To learn additional details about the money-saving benefits of a timely re-roofing using Monier™ roof tiles, consult with Higgins Roofing. Our company specialises in re-roofing, new roofs, roof extensions, and roof restorations with roofing tiles from Monier™. Also, we are experts in installing the InlineSolar™ tiles as well with compatible roofs throughout the Melbourne area.