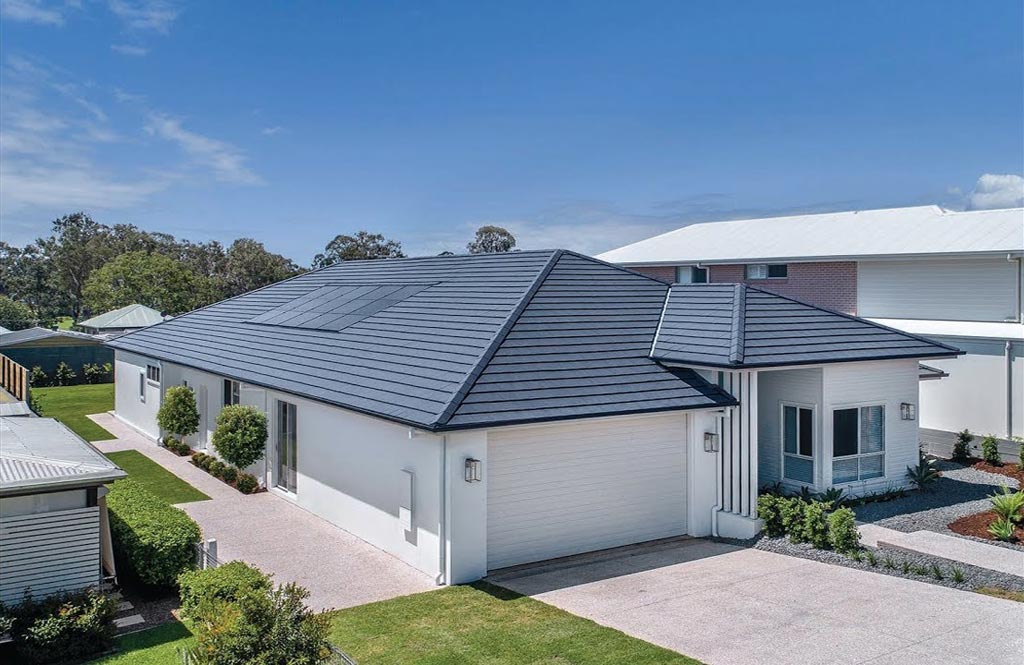 Five Reasons Why You Should Choose Monier Tiles for Your Duplex Property in Sydney
05 November 2021
With over 100 years of protecting the people you love from the harsh Australian conditions, Monier knows roofing.  Your roof takes up 30% of the external façade, it significantly contributes to the look of your home so you need to make the right choice for you and your family.
We genuinely care for the Australian environment and protecting your home. We were the first to launch an integrated SOLARtile™ to lower the energy consumption of Australian households leading to lower energy bills. Concrete and Terracotta tiles have a lower embodied energy which means there is less energy consumed throughout the manufacturing process of a tiled roof compared to other roofing materials.
Monier's concrete tiles can be installed at a 15-degree pitch with sarking and terracotta Nouveau tile can be installed at a 12-degree pitch with sarking which will protect your home from leaking and achieve the modern look. Monier's range of composite lightweight panels can be installed at 10 degrees pitch to achieve that streamlined look and keep you safe from all the elements.
Monier is passionate about building roofs that last a lifetime to protect the people we love for generations to come. Metal roofs have been "tested" for 50-years whilst Monier's roof tiles have been proven for 100 years backed by a 50-year performance guarantee for concrete and terracotta.
Monier's range of composite lightweight has been specifically designed to withstand up to 300kg and retain its strength whilst being 10x lighter than tiles. We continue to innovate around strength and durability to ensure your home is always strong and beautiful.
Our Concrete and Terracotta roof tiles are specifically designed to withstand the harsh Australian conditions and will not rust or corrode near saltwater, dent in a hail storm, and fade faster than alternative roofing products.
Five Reasons Why You Should Choose Monier Tiles for Your Duplex Property in Sydney
Locally made products
Locally sourced and made, Monier concrete tiles can be onsite in a matter of days, minimising time delays with trades and helping with the coordination of materials.
After-sales service
With Monier, you receive personal attention from an account manager, who helps to ensure that your build is stress-free. Experts say that Monier had everything on-site within days and made sure he was happy with the product.
Longevity
Concrete tiles are the most economical and durable roofing material on the market. They get stronger with age as they continue to harden while being baked in the sun. Monier Concrete tiles come with a 50-year warranty, so you know that your investment property will stand the test of time.
Street appeal
Monier Concrete tiles come with new C-LOC technology, which means that they have eight times better colour retention than Colorbond steel, thus maintaining their good looks for longer.
Low maintenance
As someone who cleans homes for some of Sydney's leading builders, Experts knows that brick and tile homes are easier to maintain, making them an ideal choice for an investment property as costs are lower and they are less likely to be damaged by tenants.