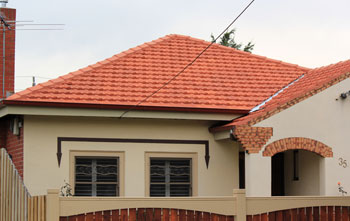 Monier terracotta tiles are not only a sustainable product of natural beauty, they also provide a long-lasting and functional purpose since their colour never fades. The enduring colour is created during the firing process to leave you with a roof that will never require retreating and very little maintenance over its life. This makes terracotta roof tiles the ultimate roofing choice.
Ensuring you pick the right roof can make or break the look of your home. With the roof making up to 30% of the façade of your home, it's no wonder making the right choice is important. First impressions definitely count in increasing the value of your home. One particular component of Monier roof tiles is its ability to be energy efficient. Below are Monier roofing essentials – insulation, ventilation and sarking capabilities that will help you reduce energy bills.
Insulation
Insulation products slow the transfer of heat and cold through your ceiling, resulting in the regulation of temperature within living spaces all year round.
Ventilation
The final component of an effective roofing system is roof ventilation. A wind powered ventilation system plays the key role of minimising temperature build up in the roof space by extracting trapped hot air and replacing it with cooler, ambient air from outside. Ventilation is recommended if sarking is used. Your roof can significantly benefit from ventilation since it expels hot air from your roof space in summer, exhausts damp air in winter, reduces air conditioning load and helps reduce energy costs.
Sarking
You only get one chance to install sarking and that is when you install a new roof. At Monier, we believe the benefits of sarking far outweigh the incremental cost of the product. Sarking is a flexible membrane that is laid under the roof battens during the installation of a new roof. Monier recommends the use of sarking for all new roofs irrespective of roof pitch, terrain category or location for a lot of reasons. First, Monier roofing essentials reflect up to 95 percent of radiant heat entering your roof space, contributing a reflective r-value which improves the overall thermal insulation value of the roof structure. Aside from that, it also reduces air leakage from inside the roof structure, allowing insulation to work more effectively which ultimately improves the energy efficiency of your home. It also provides additional protection for your home from wind driven rain and dust ingress. y, it provides compliance to Bushfire Attack Level (BAL)  bush fire ember attack requirements in accordance as3959 by providing a secondary form of ember protection for the roof space.
If you are in the market for Monier™ roofing essentials to reduce your energy bills, avail them from Higgins Roofing for a perfect roofing system. We are considered as professional roof tilers who perform the installation of Monier and Wunderlich roof tiles in Australia. We are extremely dedicated to offer Australian homeowners the highest quality of roofing products and installation suited to their needs and preferences.
Solar solutions are necessary in any household and commercial construction, nowadays. Not only are they stylish in appearance, but they are also more than functional in characteristics. One particular brand that offers such a product is Monier with their InlineSOLAR™ products, these roofing tiles can carry out a powerful and flexible solar solution for all your needs.
Monier's InlineSOLAR™ Maintains a Stylish Design
InlineSOLAR™ grants you the flexibility to integrate solar into your roof. Your roof will be clever and stylish with industry-leading all-black solar panels which enhance your system and your home's look. Full battery compatibility with Tesla Powerwall 2 allows you to take the power of your solar roof further – maximising your return on a solar roofing investment.
Monier's InlineSOLAR™ Ensures Strength
InlineSOLAR's™ integrated panels create a stylish low profile look blending perfectly with your roofline. Better still, you can rest assured that the clever integration means your roof remains strong and watertight. If you're looking for a powerful but flexible solar solution, InlineSOLAR™ is the perfect fit for you and your roof.
Monier's InlineSOLAR™ Offers Perfect Roof Fit
InlineSOLAR's™ recessed panels can offer the perfect fit for your roof, with a combination of high-efficiency and sleek design. Watch the video to see how InlineSOLAR™ could be the solar solution for your next re-roof or build.
Monier's InlineSOLAR™ Comes in Various Options
Available exclusively with all Monier Concrete and Terracotta roofing tiles, Monier's InlineSOLAR™ comes in packages that can either be a Bradford Chargepack Pro InlineSOLAR™ and Bradpack Solarpack Pro with InlineSOLAR™. Both are a flexible, powerful and stylish. These options can future-proof your home and create a sustainable and reliable energy-saving roof tiling.
To learn additional details about why you should use Monier's InlineSOLAR™ for your home, consult with our company, Higgins Roofing. We specialise in installing all the roof tiles that Monier™ manufactures and will advise you on which version is ideal for your home. All our workmanship comes with a guarantee on top of the 50-year warranty that you receive from Monier™. Monier roof tiles are indeed an ideal material that can be a powerful and flexible solar solution. With Higgins Roofing, we can guarantee that purchasing Monier roof tiles will be the best option for you. We at Higgins Roofing are able to supply and install your home with such Monier roof tiles at the best rate you can find. We are also accredited CSR roofing specialists. We have become one of Melbourne's largest supply and installation companies operating throughout all suburbs of Melbourne, servicing Australian homeowners the highest quality roofing products and installation.