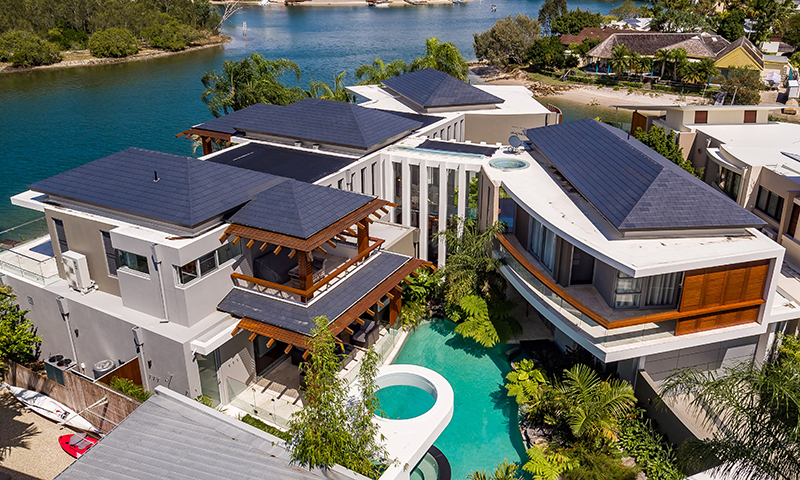 Monier™ concrete flat tiles are the most economical and durable roofing material on the market. Just like concrete bridges and the structural elements of buildings, concrete tiles get stronger with age as they continue to harden being baked in the sun. Indeed, concrete flat tiles truly embrace the harsh elements.
On the other hand, Monier™ SOLARtiles™ are solar solutions that allow you to integrate with concrete profiles such as Madison, Georgian, Cambridge and Horizon. The SOLARtiles™ are designed to withstand the elements alongside all Monier tiles. They are strong, hail-proof and at less risk from wind strain or debris than standard systems.
As such, they are proven to be the perfect pair for solar roofing due to their characteristics and functionality. Below are some of them.
Seamless Solar Roofing
As mentioned previously, concrete flat tiles range of Horizon, Madison, Cambridge and Georgian integrates seamlessly with the unique SOLARtile™ system to achieve a superior aesthetic appeal for your home. Since the solar tiles are compatible with the said concrete profiles, there is no need to cut, grind or drill through your existing roof during installation.
Colour Longevity and Flexibility
Monier™ concrete flat tiles come in the widest range of colours and profiles and you have the ability to update the look of your roof with a simple re-coat. You also have a choice of colour technologies to retain the look, beauty and re-sale value of your home. These options are popular due to their colour longevity and flexibility. In fact, it is said that Monier's standard concrete flat tile range has a 78 percent better colour performance than standard COLORBOND® Steel. Aside from that, Monier C-LOC™ Colour Lock Technology has an eight times better colour performance than standard COLORBOND® Steel
Withstand Extreme Weather Conditions
Concrete flat tiles are perceived to be genuinely made for Australian weather conditions. These tiles love the beach and marine life. They will not rust or corrode near salt water like metal roofs. Concrete is also a great fire-safe option. As mentioned above, if you integrate concrete flat tiles with SOLARtile™, you will be able to produce solar roofing that can withstand the elements alongside all Monier tiles. They are deemed as strong, hail-proof, and less risky from wind strain or debris than standard systems.
If you are in the market for Monier™ concrete flat tiles and SOLARtile™, avail them from Higgins Roofing for a perfect solar roofing system. We are considered as professional roof tilers that perform the installation of Monier and Wunderlich roof tiles in Australia. We are extremely dedicated to offer Australian homeowners the highest quality roofing products and installation suited to their needs and preferences.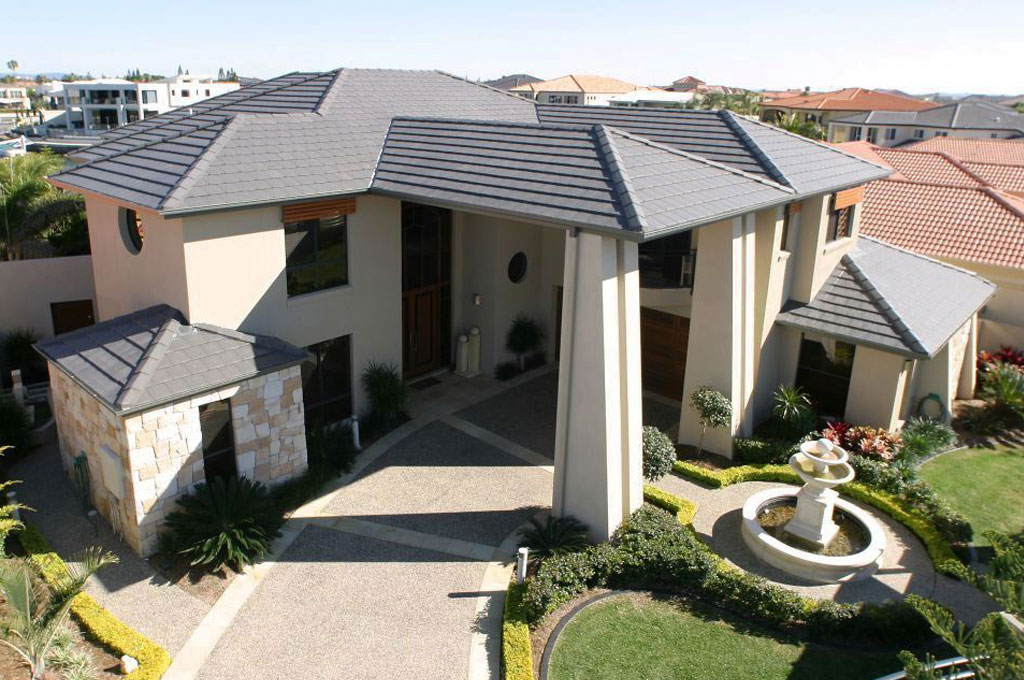 Summer season is the most favourable time for reroofing projects due to many reasons. First, the temperatures are ideal for reroofing or roof replacement as compared to the chilly weather of the winter. Secondly, roofers have a less hectic schedule in the summer. There is also less chance of rain interfering with the roofing task during this season. Aside from that, no snow or ice will fall which reduces the hazardous conditions of the already risky project. Lastly, you will have an ample time to prepare your roof for the colder months of the year.
Despite the many advantages brought by the summer season, you can never be too complacent. Below are summer season reroofing tips that might just help you while you proceed on your reroofing project.
Start as Early as Possible
Weather is indeed a force to be reckoned with. It is highly uncontrollable since you will not know how hot the day is going to get or predict with 100 percent accuracy when it will start to rain in the afternoon. However, you can always play the hand you are dealt, meaning you can manage how you will respond to the given circumstances. You should start the reroofing process early in the morning to avoid as much of the sun's summer rays and afternoon rain as possible. If you get the bulk of the work done before the hottest point of the day you have acquired the key to surviving in summer heat.
Hydrate as Often as Possible
The best tip for surviving the extreme summer heat is staying hydrated. The human body is made up of 60 percent water, which is why the body is dependent on water to function. Water intake helps digest food, take nutrients and oxygen to all the cells of the body, and lubricate joints while cushioning organs.
Standing on the roof, directly in the path of the sun's ultraviolet rays, causes the body to sweat. And while sweating regulates body temperature, excessive sweating without replenishment can lead to dehydration, fainting and many other serious ailments. Drinking plenty of fluids before, during and after every roofing project should be the plan of action for all contractors working in the heat.
Take Cooling Down Breaks
Standing on top of a roof, there is usually no shade to protect a roofer from the sun's rays. Reroofers must take an ample amount of breaks in the shade, or air conditioning if available, while working through the hot sun. It is as important as staying hydrated throughout the day.
Wear Necessary Protection
Appropriate clothes are the body's first line of defence against the sun. There are shirts designed to keep you cool because their fabrics are breathable and can wick moisture from the body. Don't forget about the importance of a good pair of shoes. Finding shoes that have a great resistance to wear-and-tear and have a slip-resistant sole are two important features for roofing footwear attire. Finally, sunscreen is a roofer's best short-term defence against burns and long-term safeguard when it comes to preventing skin cancer. To aid in a roofer's fight against dehydration and other ailments caused by the sun, a layer of sunscreen should cover all body parts not shielded by clothing—it is the final piece to every roofer's summer uniform.
Make sure to consult Higgins Roofing in your summer reroofing project. We are a leading Re-Roofing specialist in Melbourne that can help you with your roofing needs.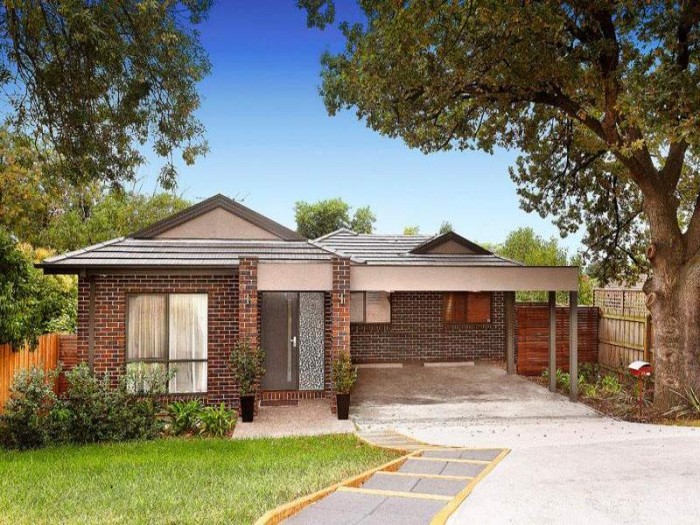 Efficiency is measured when a certain tool or equipment is able to function the way it is supposed to and even beyond. As such, it is of utmost importance that objects function well, otherwise it will be deemed as useless and obliterated. Same goes with roof tiles. They are heavily used as a weather barrier against hot weather and exposure to salt air. Aside from that, Monier roof tiles can also prevent the accumulation of rainfall during cloudbursts. Monier roof tiles are also said to protect every home from extreme weather conditions such as tropical cyclones and storms.
Less Inclined for Damage
During a building material response test conducted at the Cyclone Testing Station at James Cook University, the Monier roof tiles and sheeting proved to be able to overcome extreme weather conditions such as tropical cyclones and storms. Monier roof tiles resulted into little to no damage even after an impact from a hail and ice balls that are significantly larger in size, density and speed than that from extreme weather events.
Highly-Intact
The study made use of the Monier roof tile ANSI FM4473 Standard model with a 35mm ice ball with a speed of 80km/h and a 60mm ice ball with a speed of 100 km/h. These two ice balls were projected using a wind-driven debris simulator. The projected ice balls were perceived to have the same density as a watermelon. However, these ice balls shattered upon impact with the concrete Monier roof tile. The roof tile was highly intact even with that amount of weight and force. These test results guaranteed the superiority of Monier roof tiles, thus, demonstrating their resilience in the face of severe weather conditions.
Non-Corrosive
Despite the moisture present in the simulated hailstone, the Monier roof tile was proven to be non-corrosive and less likely to rust given the circumstances. This proved to be highly ideal for the many Australians who live in coastal towns and cities throughout Australia. Concrete tiles also get stronger with age and provide better thermal insulation.
Monier roof tiles are indeed an ideal material that can withstand extreme weather conditions such as tropical cyclones and storms. With their 50 year product performance guarantee, you can be assured that purchasing Monier roof tiles will be the best option for you. We at Higgins Roofing are able to supply and install your home with such Monier roof tiles at the best rate you can find. We are also accredited CSR roofing specialists. We have become one of Melbourne's largest supply and installation companies operating throughout all suburbs of Melbourne, servicing Australian homeowners the highest quality roofing products and installation. (Monier)
---
Monier. (n.d.). How Tiles Win in the War Against the Storms. Retrieved November 25, 2019, from Monier: https://www.monier.com.au/colour-and-inspiration/blog/how-tiles-win-in-the-war-against-storms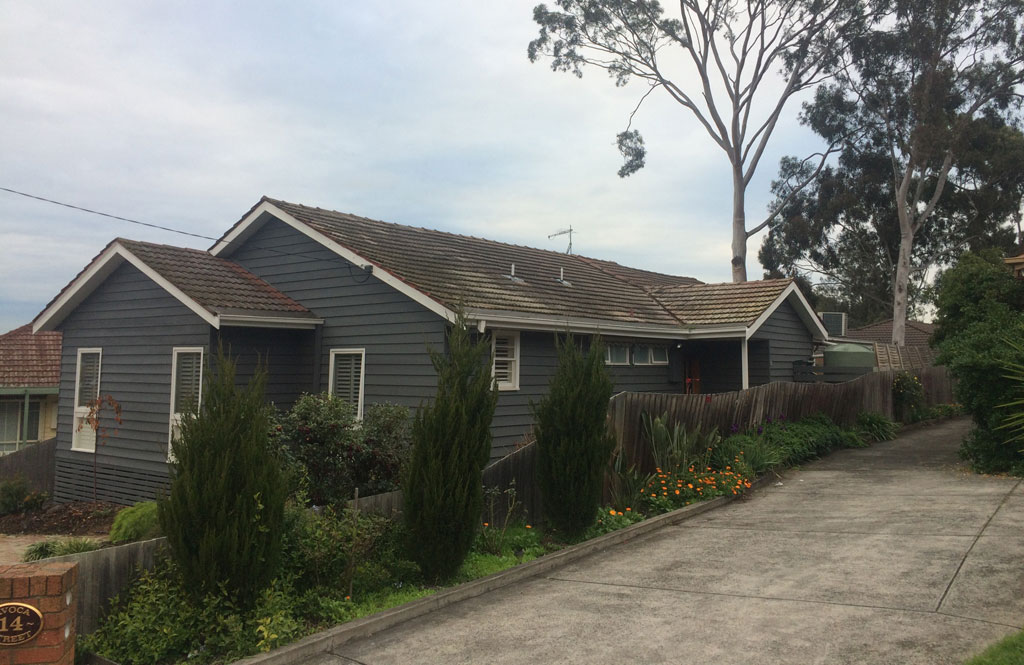 Australia is presumed to experience harsh weather conditions and extreme climate changes, particularly in the coastline. People residing in those areas with that kind of normal occurrences must equip their homes with the sturdiest materials so that they can ensure the safety of their families and properties. Out of all the external features of a home, roofs holds the most need for such. It is important for roofs to withstand harsh weather conditions in order to successfully protect the premises.
That is why Monier roofing tiles are essential for this kind of issue. Below are the reasons why they are able to withstand harsh weather conditions.
Resiliency
Monier roofing tiles are highly classified as a resilient product. Its wide range of products has one thing in common – they all get stronger with age. You cannot easily tamper with their strength and resiliency. They are extremely durable. This is proven with their fifty-year quality performance guarantee. These Monier roofing tiles will never dent, rust, corrode, or experience rapid streaking or fading of colours. If there is a case of broken tiles, which is highly unlikely, you can easily replace the individual tiles rather than reinstalling another whole sheet of roof. You can either choose Monier's terracotta, concrete, or elemental composite roof tiling.
Wind Resistant
Monier roofing tiles, by nature, are better than an average sheet metal especially in areas with harsh weather conditions. Natural occurrences, especially those involving extreme wind conditions can become dangerous if not addressed. For this reason, it is essential for homeowners to use either concrete or terracotta tiles as wind uplifts these force. It will also give you a fair advantage so that you can easily manage a lower tiled roof.
Long-lasting Colour
The manufacturing process of Monier roofing tiles is a very tedious one. And it greatly exudes such in its colour alone. Monier Terracotta roofing tiles is placed in an extremely high heat to avoid colour fading. Monier roofing tiles also performs better than average brands as proven by several comparative tests simulated in laboratories. They also incorporate coatings so that these materials will be able to retain their aesthetic value despite harsh weather conditions.
Durability
As mentioned above, Monier roofing tiles have been proven by a fifty-year performance guarantee for concrete and terracotta for 100 years. Its range of composite lightweight components is said to be specifically designed to hold up to 300 kilograms and its strength retention is at maximum while being 10 times lighter than ordinary roofing tiles. This allows them to be sturdy even during stormy weather and in the midst of hurricanes and cyclones.
You should avail of Monier roofing tiles from Higgins Roofing. We are equipped with professional roof tiling experts that can exceptionally perform the installation of Monier and Wunderlich roof tiles in Australia. We continue to uphold the shared desire to offer Australian homeowners the highest quality roofing products and installation suited for their respective needs and preferences.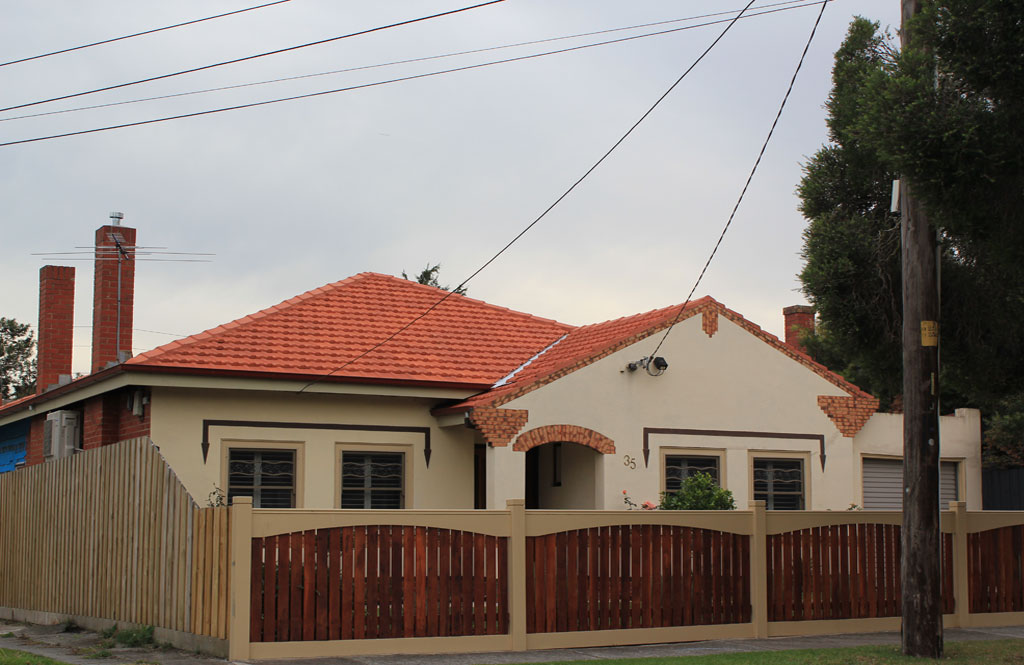 Selecting the right roof for your house is one of the most serious decisions that you may ever make for your home since it makes up about one-third of your house's exterior. It has a significant influence on your home's curb appeal for this reason. Without the correct roofing material, the roof may negatively impact the value of your home. However, choosing an attractive, durable one will increase the house's value. Monier™ understands the importance of a quality roof and has committed a great deal of time and resources to developing the company's C-LOC™ technology that ensures long-lasting, resilient roof colour for years to come with Monier™ concrete roofing tiles. Choosing this company's roofing materials that contain this technology brings you the following advantages.
Your Roof's Colour Will Last Eight Times Longer Than the Standard COLORBOND® Steel
Monier™ concrete tiles with C-LOC™ technology provides eight times the colour performance than the standard COLORBOND™ steel in both colour and gloss retention. This means that you receive years more wear before the coating needs attention.
C-LOC™ Technology Helps Make Monier™ Roof Coatings Extra Resilient to UV Exposure
Another benefit of this technology is that it makes your roof extra durable to UV exposure. As you know, the sun's rays can get rather intense here in Australia, and they can make lesser-quality roof coatings degrade prematurely. To prevent this issue, choose Monier™ concrete tiles with C-LOC™ to protect and enhance your roof.
C-LOC™ Coatings Maintain Their Gloss Far Longer Than Other Types of Coatings
• Eight times longer than COLORBOND steel
• Four times longer than the CAT colour coatings by Monier™
• Six times longer than other types of concrete tiles that contain solvent-based coatings
Monier™ Roofing Products That Contain C-LOC™ Technology Undergo Strict Independent Testing
Before releasing their roofing products that contain the C-LOC™ coating for sale, Monier™ ensures that they undergo 2,000 hours of strict testing. This testing exposes the products to accelerated weathering to learn how well they perform. In all cases, they outperform the competition.
Monier™ Issues a 50-Year Performance Guarantee on Its Concrete Tiles
An additional advantage of choosing Monier™ concrete roof tiles with C-LOC technology is the fact that the company backs them with a 50-year performance guarantee. The company knows the value of its tiles and has no problems protecting your investment in this way.
For additional information about the advantages of Monier™ C-LOC™ technology, consult with Higgins Roofing. Our company is an authorised dealer and installer for Monier™ roofing tiles. Also, we are experts in all aspects of roofing.